Meet the Notorious AMG, otherwise known as Ali, of Alison Milwe-Grace Catering. Can't wait to taste the delicious Tuna Poke appetizer her team is whipping up for Harvest Fest!
Meet Chef Hugo Orozco of Evarito's in South Norwalk. Chef is gearing up for his debut at this year's Harvest Fest with a killer appetizer of charred corn tortilla with mole negro & fall harvest squash, but Evarito's is offering up a Mexican-themed rooftop party for 20 in our live auction.
Marcia Selden Catering & Events
Shake it up! Jeffrey & Robin Selden of Marcia Selden Catering & Events are having a blast creating the specialty cocktail for Harvest Fest, 'The Perfect Pear,' featuring:
Tito's Handmade Vodka ,Elderflower Liqueur, Sparkling Water, Fresh Pear Juice and Lemon Juice
Barcelona Wine Bar's
Michael Lucente
Meet Chef Michael Lucente of Barcelona Wine Bar. His team is firing up the charcoal grill for an hors d'oeuvres table inspired by the sea, featuring Grilled Pulpo with a choice of Romesco, Salsa Verde or Garlic and Lemon. Plus: Local Mojo Picon Potatoes, Grilled Eggplant, Green Olives, Boquerones, Heirloom Tomatoes, Dill, and Shallots
A&S Fine Foods of Westport's Chef Albert Pizzirusso
Meet Chef Albert Pizzirusso, of A&S Fine Foods of Westport. For Harvest Fest, he's whipping up a hot Prosciutto-Ricotta Fritter with Fig & Orange Marmalade with Micro organic arugula and roasted pepper balsamic vinaigrette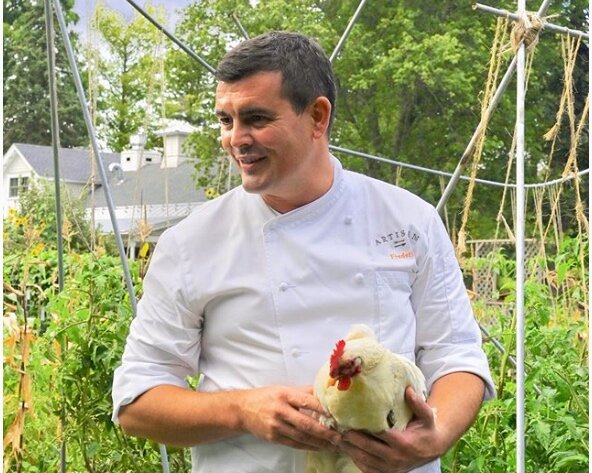 Meet Chef Frederic Kieffer, the force behind L'Escale at the Delamar in Greenwich, as well as at Artisan in Southport and Hartford, and at the Four Columns Inn in Vermont. This Harvest Fest, he is creating an Autumnal Salad starter.
Chef Glen Michael of Fire and Rice Fairfield
Meet Chef Glen Michael of Fire & Rice Fairfield, who is whipping up his famous paella as an appetizer at Harvest Fest.
Chef Chris Wuestenhoefer, of Best in Gourmet
Meet Chef Chris Wuestenhoefer, of Best in Gourmet, who is firing up the grill for the perfect main course of Filet Mignon.